Posted 2019-07-27

I Googled this after I got an email from Amazon about it & was surprised that I didn't find anything on it, so my OCD compelled me to post...

Here's the text from the email:

---
Important information about accessing Prime Video

Amazon will no longer be supporting the Prime Video app on your Sony Blu-ray Disc Player / Sony Network Media Player / Sony Blu-ray Disc Home Theater System / Sony AV Receiver and Sony Smart TV devices as of September 26, 2019. We are continually upgrading our service and this occasionally means we can no longer support certain device models.

To help you to continue streaming your favorite content, we're offering you a $25 credit towards select Fire TV devices which will allow you to continue to stream your favorites from Prime Video. To redeem, add a Fire TV Stick, Fire TV Stick 4K, or Fire TV Cube to your cart and enter the below promo code at checkout. This offer ends on November 1, 2019.

XXXX-XXXXXX-XXXXXX

You can continue to watch Prime Video on other supported devices, including most smart TVs, games consoles, streaming media players and mobile or tablet devices. Please see our complete list of compatible devices at amazon.com/help/supporteddevices.

Promotional code expires at November 1, 2019. Promotional code applies to Fire TV Stick with Alexa Voice Remote, Fire TV Stick 4K with Alexa Voice Remote, or Fire TV Cube with Alexa Voice Remote sold by Amazon Digital Services LLC on Amazon.com. Products sold by third-party sellers or other Amazon entities will not qualify for this offer, even if "fulfilled by Amazon.com" or "Prime Eligible". Offer cannot be combined with other offers. Offer good while supplies last. Offer does not apply to digital content. Shipping charges and taxes may apply to discounted and free promotional items. Offer limited to one per customer and account. The maximum benefit you may receive from this offer is a $25 credit for Fire TV Stick with Alexa Voice Remote, Fire TV Stick 4K with Alexa Voice Remote, or Fire TV Cube with Alexa Voice Remote. Amazon reserves the right to modify or cancel this offer at any time. Offer is non-transferable and may not be resold. Offer discount will be allocated proportionally among all promotional items in your order. If any of the products related to this offer are returned, your refund will equal the amount you paid for the product, subject to additional refund policies. If you violate any of these terms, the offer will be invalid. Unless an Amazon Gift Card is the stated benefit of the promotion, promotional codes (including this placed directly in accounts) may not be redeemed for Amazon Gift Cards. Use of the Fire TV is subject to the terms found here.

Thank you,
Prime Video

---
The email looks to be legit: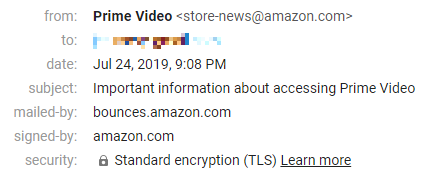 I ended up getting 2 Fire TV Stick 4K's along with an Amazon Ethernet Adapter (because I like to be hard wired) & a Mission USB Power Cable (because the outlet behind the TV already looks like this). I did get $25 off when I used the Promo Code, but the shit thing is that I have (and used) 2 Sony Blu-ray players, so it sucks that I can only get 1 $25 credit.

Anyway, now ya know. Enjoy!